4 INSANE SOLAR PANEL CARS 0F 2017
In 2013, our team finished 4th overall and we were North America's No. 1 team. In 2015, we cut our time behind the leading team in half and are more competitive than ever going into the next race.
eVe is the worlds fastest electric car over 500km and in 2016 will become the first road legal solar sports car in Australia. eVe represents a shift in solar-powered transport from conceptual, purpose-built race cars to those capable of meeting commercial vehicle standards of performance, comfort and safety.
eVe demonstrates the viability of solar technology in the emerging electric vehicle market and how Australian students can make an impact with global significance.
The Sion is an innovative electric car with integrated solar cells in the body, a range of 250km and a price of less than € 16,000. 30 free kilometers per day are possible with electricity generated by the sun. The stored energy can be used through bidirectional charging for all common electronic devices. Sion is a family friendly vehicle, thanks to 5 seats and optional trailer coupling. In Short: A self-charging electric car for infinite, sustainable driving.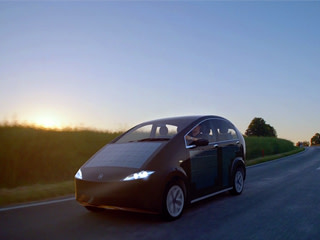 Solar Team Eindhoven contributes to a clean world. Our passion is to develop a solar car that is ready for the market of tomorrow. Imagine a world where cars no longer need fossil fuels. Imagine a world where cars are energy positive.